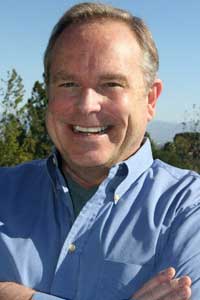 DONALD PAUL PEMRICK
Member of the Academy of Television Arts and Sciences
One of the founding Members of the Casting Society of America
Donald Paul Pemrick began his career in the Entertainment Industry in 1980 as the Casting Assistant on the Columbia Pictures feature film Annie, based on the hit Broadway musical.  Working with the Academy Award Winning Director John Houston, Donald was responsible for the auditions of nearly 12,000 young girls in ten open calls throughout the U.S.   A year later, he joined BCI Casting as an assistant/associate for the legendary Casting Director, Barbara Claman and her partner Marc Schwartz on numerous feature films, Movies for Television, TV pilots and Series such as Seven Brides for Seven Brothers that launched the career of River Phoenix.  In 1983, Donald left BCI with Marc Schwartz when he formed Marc Schwartz Casting (MSC).   Donald became the casting director for one of television's most beloved comedies: Three's Company.   He also worked on numerous pilots for ABC, NBC, CBS and the Aaron Spelling series Dynasty as well as the CBS series Emerald Point NAS.  He also cast numerous Movies of the Week starring such TV favorites Valerie Bertinelli and John Ritter.  At the time, he was the youngest Prime Time Casting Director for Network Television.  Milt Hamerman (Head of Casting at Universal Television) became aware of Donald when working on two spin offs of the comedy series Too Close for Comfort.  Liking Donald's fresh approach to casting, Hamerman offered Donald a staff position at Universal Studios Television. Again, he was the youngest person to hold such a position. During his stint with Universal, Donald was responsible for casting pilots such as The Equalizer and numerous series highlighted by Charles in Charge created by the Emmy Award winning producer Sherward Schwartz and The George Burns Comedy Week created by Steve Martin.
In 1985 Donald chose to move into feature films. He left Universal and joined Menahem Golan and Yoram Globus at the prolific Cannon Films where he cast nearly a dozen feature films.  In 1986, Donald Pemrick Casting was formed. This allowed Donald the opportunity to cast several independent films that would shoot around the world including Europe, Africa and the Philippines. In 1988, Donald's career turned back to television, and he moved to New York City to be the Casting Consultant for NBC Television while still casting his independent features.  At NBC, Donald's job was to look for new and upcoming talent for NBC pilots and on the air series.  He auditioned such future film and TVstars as Matt Damon, Adam Sandler, Matt LeBlanc and Marisa Tomei to name a few…One of Donald's independent films at this time was the remake of Lord of the Flies, where he conducted an East Coast search auditioning over 1000 young actors in eight states…a flash back to his days on Annie.
In the early 90's, Donald accepted a Casting Director position in Los Angeles working with a new Independent Film Company, I.R.S. Media, Inc. formed by music legion Miles Copeland and partner Paul Colichman.  I.R.S. Media was one of the first independent film companies allowing writers and directors to make the films they wanted to make… Pemrick had the pleasure of casting over twenty-five films for IRS Media. Some of his highlights would be the cult classic, Shakes the Clown starring Bobcat Goldthwait, Adam Sandler and Robin Williams. One False Move, directed by Carl Franklin  starring Bill Paxton and Billy Bob Thornton which  Siskel & Ebert's choose as the #1 Film of the year and receiving 5 Spirit award nominations and the Board of Review Best film; and the Oscar nominated film Tom & Viv with Willem Dafoe, Rosemary Harris and Miranda Richardson.  He also produced three films for IRS; the critically acclaimed December, a World War II coming of age drama starring Balthazaar Getty, Wil Wheaton and Jason London, and the Martial Arts Films Rage and Honor and Rage in Honor II which filmed on location in Indonesia.  He also cast films independently, working with such future Academy Award Winning actors Colin Firth in Playmaker and Charlize Theron who was Taft Hartleyed in Children of the Corn III.
In 1994, Pemrick hired Dean Fronk as his Casting Assistant at IRS and by 1995, Pemrick/Fronk Casting (PFC) was formed with their film company Ataraxia Entertainment.  Over the next 18 years Pemrick/Fronk would cast more than 400 projects consisting of studio films, series, pilots, animated films, movies for television, new media series, and the best selling CD-Roms, Diablo II and Warcraft III.  They have nearly 70 Movies for television which have aired on Lifetime, Hallmark, ABC Family, Nickelodeon and the SyFy Channel.  Their feature films cover every genre from Rob Zombie's, House of 1000 Corpes, to the animated Holiday classic Rudolph the Red Nose Reindeer and the Island of Misfit Toys, with Jamie Lee Curtis and Richard Dreyfuss, to the family classics Universal's Beethoven III and IV.   PFC's television casting includes the FOX family series Mowgli, The New Adventures of the Jungle Book and the CW's Kamen Rider: Dragon Knights and Little Girl Lost: the Delimar Vera Story which was nominated for 9 Imagen Awards.  They also produced the feature film, Freestyle starring Corbin Bleu. Some of today's brightest film and TV stars had their early start in an indie film with Pemrick/Fronk: Jessica Alba, Shia LeBeouf, Eve Mendes, Naomi Watts, Rainn Wilson, Miranda Cosgrove, Ian Somerhalder, Milo Ventimiglia, Ryan Reynolds, Scarlett Johansson, Stana Katic, Leighton Meester, Josh Holloway, Josh Hutcherson, Ben Foster, and Chris Pine.
           Donald Pemrick and Dean Fronk were nominated for Artios awards for their independent Sony Picture film The Lodger in 2009 and also for the short film, License to Reproduce in 2011.  They were nominated and won the 2009 Heller Award from the Talent Manager's Association for Best Feature Film Casting Director.  Donald Pemrick is a current member of the Television Academy and the Casting Society of America.